All content Copyright © 2007-2021 Emerald City Supply Ltd.
Growing Food Indoors

...growing in your home, shed or greenhouse...
Part 3 - Onward Growing - Soil or Perlite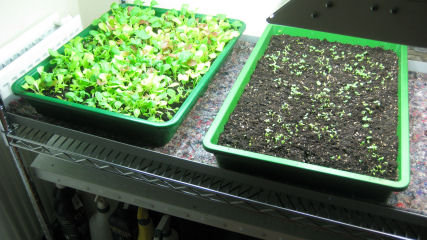 A tray of young Mesclun seedlings in All-Mix
Thinning Out
The right hand tray above contains a mesclun mix that has just sprouted. The plants have been thinly planted and will not require any thinning. If the young plants are any closer together than in the tray pictured they will need to be thinned out. Just pull out the surplus plants to allow more growing space for the rest.
Harvest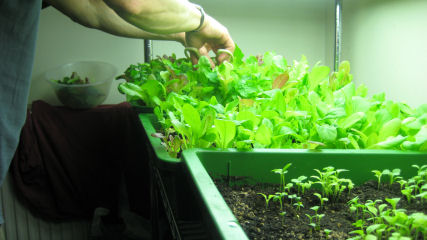 It should take about three weeks for a tray of mesclun to reach the clipping stage. Simply clip leaves into a container as needed. Try to cut individual leaves rather than whole plants – this will prolong the useful life of a tray. These tasty salad leaves can just be tipped into a salad or sandwich, they are also excellent as a constantly available garnish.
You should plant new trays at about five week intervals to maintain a continuous supply of tasty leaves. Three trays will fit very well under a T5 light fitting. Overworked trays should be simply upended over the compost heap and washed thoroughly before replanting.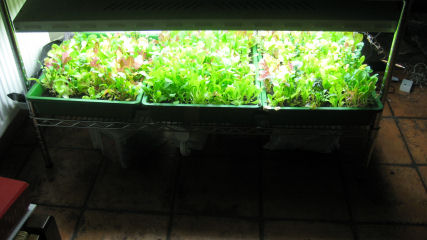 Three trays of Mesclun ready for harvest.