All content Copyright © 2007-2022 Emerald City Supply Ltd.
AutoPot
>
Autopot "easy2grow" Multi-pot System
Autopot "easy2grow" Multi-pot System
A range of innovative self watering systems based on a gravity supply. Reliable and simple automation for all vegetable crops.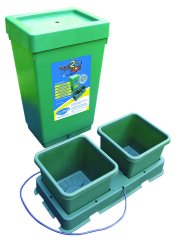 The easy2grow kit - two pot system
The easy2grow kit is a complete kit, providing the user with everything they need to set up and start growing. The kit is ideal for indoors, greenhouses and outdoors; it will water and feed your plants for up to four weeks and is suitable for a variety of plants, ornamental and edible.
You can work with just the Two Pots or you can buy more Two Pot Modules to extend your system. The tank provided is easily big enough for three modules (six pots - as in the diagram linked below). However if you invest in a bigger tank - a plastic water butt will serve the purpose - you can add as many extra modules as you choose - there is no practical limit to the number.
Extending the easy2grow System
The system is infinitely extendable. Provided the tank is big enough you can just add more pots - to fill any greenhouse or growing area.
Please see the diagram to see a typical layout.