All content Copyright © 2007-2021 Emerald City Supply Ltd.
Growth Enhancers
>
Nitrozyme
Nitrozyme
A pure and highly concentrated organic extract of sea plants, renowned across the world as a truly amazing Growth Enhancer.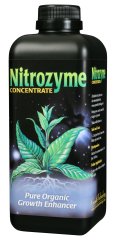 Nitrozyme contains a complex profile of plant active compounds and exotic micro nutrients and it can be used on growing plants at almost every stage of growth. It has been tested and trialled by a number of prestigious institutions and the results that have been achieved, by these professional and disinterested bodies are truly remarkable.
See the Nitrozyme Test Results summary.
Nitrozyme can be used as:
A seed soak - to encourage rapid germination.
Growth Enhancer - Nitrozyme can be watered into the root zone to unleash the underlying vigour of the plant.
A foliar treatment (spray) to enhance vigour and accelerate growth.