All content Copyright © 2007-2023 Emerald City Supply Ltd.
Nutrient Management
>
pH Buffer 7
pH Buffer 7
A buffer solution set at pH 7.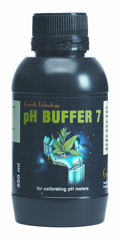 Buffers are solutions of a known pH, used to calibrate pH meters and monitors.
pH meters should be calibrated at regular - monthly - intervals.
Buffer 7 solution is used with both ONE Point and TWO Point calibration systems.
You may also be interested in these related products: