All content Copyright © 2007-2021 Emerald City Supply Ltd.
Plant Propagation
>
Root Riot Propagation Kit
Root Riot Propagation Kit
Everything needed for successful propagation in a box. Contains Clonex -50ml, Formulex -100ml, Root Riot -24 cubes plus a scalpel and full detailed instructions.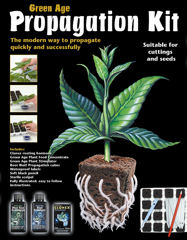 Plant propagation has changed a lot in the last few years. Gone are the days of rooting powders and trays of sand. This kit combines all the products needed for success in the modern way – a great introduction to the technology. This kit makes a great present for the gardener in your life.
Root Riot! is the new organic propagation medium. Made from composted organic materials, these new cubes have a great spongy texture which retains the perfect air / water ratio for healthy rapid root growth. Specially inoculated with micro nutrients; to nourish the young plants, and also beneficial rooting fungi to aid root development.
Simple to use
Faster more vigorous rooting
Clean and dust free
Organic and fully biodegradable
Suitable for both cuttings and seeds, Root Riot consistently out performs alternative media. Clonex and Root Riot are the perfect partners for propagation success.