All content Copyright © 2007-2021 Emerald City Supply Ltd.
Pest and Disease Control
>
Spidermite Control
Spidermite Control
Safe, effective and organic control of spidermites.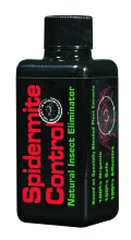 Spidermite Control is blended from vegetable oils and plant extracts. It does not poison the mites, but suffocates them.
Because it is has a mechanical action rather than a poisonous ingredient it can be used right up to harvest of the crops although it should not be sprayed directly on to flowers.
Spidermite Control is not a pesticide in the old fashioned sense. It contains no toxic chemicals and doesn't even need to be registered. It is perfectly safe for humans and pets and can be used with confidence wherever mites are a problem - indoors or outside. Spidermites are arguably the most devastating pest that confronts the keen gardener and now they can be controlled safely at last.