All content Copyright © 2007-2023 Emerald City Supply Ltd.
Nutrient Solutions
>
Crop-specific Nutrients
>
Tomato Focus
Tomato Focus
Specific nutrition for tomatoes.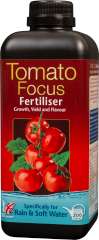 Tomato Focus is tailored to specific water types. It is the result of unique and sophisticated formulation work so it provides all required nutrients in the correct ratio. Tomato Focus supports healthy, vigorous plant growth with prolific and tasty fruits.
Available in soft/rain or hard water formulations.