All content Copyright © 2007-2021 Emerald City Supply Ltd.
Kits and Systems
>
Future Garden Flood and Drain
Future Garden Flood and Drain
A versatile and fully automatic system that can be used in various ways, mainly as a system for intensive production of small plants - or as a watering system for plants in soil and soilless mixes.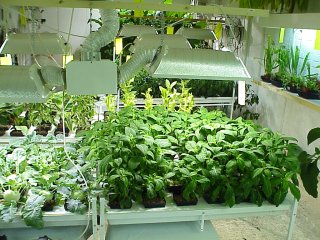 This popular kit is basically a table that is 1200mm x 900mm (4ft x 3ft) in area. The tank stands beneath the table and nutrient is pumped up into the table at regular intervals. These irrigation cycles can be easily controlled by a simple electronic timer so that the irrigation is regular and reliable whether the grower is present or not.
Flood & Drain technology is borrowed from commercial horticulture where it is widely used for production of flowers, herbs and salad crops. The so-called "hydroponic" application of Flood & Drain usually involves the use of expanded clay pebbles as a growing medium. The plants are simply potted up in the pebbles and placed upon the table. The pump forces the nutrient solution upwards - into the table, filling the tray and flooding the pots. The liquid keeps rising; forces the stale air out of the root zone and, for a while, immerses the entire root system in a bath of nutrient solution. When the timer switches off, the water returns to the tank, draining out of the table and drawing fresh, oxygen rich air down into the root zone. This is one of the most dynamic growing systems ever developed and it can deliver phenomenal growth rates and bountiful harvests.
Full Kit includes
1 FUTURE GARDEN Garden Tray 900mm.by 1200mm.
1 Steel Frameset in Kit form
1 12mm Inlet fitting w/screen
1 19mm Outlet fitting w/screen & 2 extension tubes
1 Corex Cover sheet
1 Submersible Pump 500 L/Hr.
1 Tank 68 Litre
1 Length 12 mm hose (1.5m)
1 Length 19m hose (1m)
2 Small jubilee clamps OO
1 Medium jubilee clamp OX
1 Full Instructions
1 IONIC Grow Nutrient 1 Litre
1 IONIC Bloom Nutrient 1 Litre
1 BOOST nutrient supplement 1 Litre
Optional Extras
Electronic Recycling Timer
Expanded Clay 50 Ltrs.