All content Copyright © 2007-2021 Emerald City Supply Ltd.
Nutrient Solutions
>
FloraMicro Nutrient
FloraMicro Nutrient
FloraMicro provides the plant with all necessary micro-elements, in a chelated form.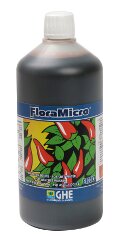 FloraMicro complements FloraGro and FloraBloom. It includes chelated micro-elements, sub micro-elements and organic buffers which help to stabilise the solutionís pH.
Flora is a dynamic, evolving formula, constantly updated, and adapted to the latest scientific discoveries. Simply, it allows you to match the needs of your plant through its different stages by changing the ratios between the liquids, as well as their concentration.
FloraMicro comes in both Hard Water (HW) and Soft Water (SW) versions.
You may also be interested in these related products: