All content Copyright © 2007-2021 Emerald City Supply Ltd.
Growth Enhancers
>
GreenFuse ROOT Stimulator
GreenFuse ROOT Stimulator
A product based on natural plant extracts that will help to initiate new roots and nourish the young plant as it becomes established.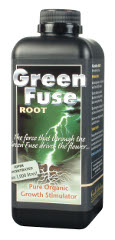 GreenFuse ROOT Stimulator can be used at all stages of the propagation process and is beneficial to all young plants. it can be applied to seedling orchids or to young plants from flask. It will reduce shock and help the young plant to become established.
GreenFuse Stimulators are 100% organic and have no negative residual effect on plants, people or the environment. They can be used safely and with confidence in the garden, the greenhouse or the indoor grow room
All GreenFuse Stimulators are highly concentrated. A little goes a very long way so they are extremely economical in use. One 300ml bottle makes up to 300 litres (around seventy gallons) of solution.
Always store GreenFuse in a cool dark place.
You may also be interested in these related products: