All content Copyright © 2007-2023 Emerald City Supply Ltd.
Miscellaneous
>
Green Room Grow Tents
Green Room Grow Tents
Self contained growing rooms.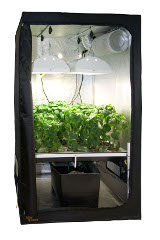 Designed to allow tight control of the growing environment for indoor plants, the Green Room is 100% lightproof. Control of CO2, heat and odour is also easy, with built in vents to connect to fans or ducting.
You will of course need plant lighting!
A key element of the design is the strength afforded by the use of 28mm steel tubing and sturdy metal corner brackets. The Green Room is built to take the weight of heavy equipment without sagging or collapsing.
Features:
Heavy duty roof bars provide optimum location/mounting of fans and filters.
Strong - purpose designed metal corners.
Simplified erection.
Side Air socks (200mm) on all models to incorporate Air-cooled Lighting.
Over size Air socks for Inlet/Extraction.
Waterproof liner tray.
Heavy duty Zips.
Handy tie-back straps on the doors and bottom tray.
Coats patented waterproof nylon thread used throughout.
Extra wide Air-vents.
Multiple electrical outlets.
Side doors on all models.
Diamond foil inside for optimum reflectivity.
The Green Room is currently available in these sizes:
| Model | Dimensions |
| --- | --- |
| GR 100 | 1mW x 1mD x 2mH |
| GR 120 | 1.2mW x 1.2mD x 2mH |
| GR 150 | 1.5mW x 1.5mD x 2mH |
| GR 240N | 2.4mW x 1.2mD x 2mH |
| GR 240 | 2.4mW x 2.4mD x 2mH |
| GR 300 | 3.0mW x 3.0mD x 2mH |
Instructions