All content Copyright © 2007-2021 Emerald City Supply Ltd.
Nutrient Solutions
>
IONIC Nutrients
>
Ionic Hydro
Ionic Hydro
Ionic formulations for plants in hydroponic systems.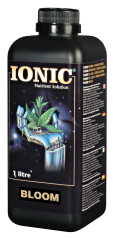 Single part nutrients formulated specifically for hydroponics. Ideal for NFT (Nutrient Film Technique), Flood and Drain, DWC (Deep Water Culture) and passive hydroponic applications. Incredibly easy to use and maintain due to the superb pH buffering which means that pH no longer needs constant adjustment. A great product that is long established and highly regarded around the world.
Available in Grow and Bloom formulations.