All content Copyright © 2007-2021 Emerald City Supply Ltd.
Nutrient Solutions
>
IONIC Nutrients
>
Ionic for Soil
Ionic for Soil
A dedicated formulation for plants growing in soil.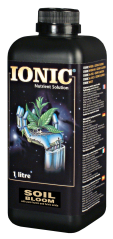 Ionic for Soil, is engineered to get the best performance from plants growing in Soil and soil-less mixes. Highly recommended.
Available in Grow and Bloom formulations.
You may also be interested in these related products: