All content Copyright © 2007-2022 Emerald City Supply Ltd.
Plant Propagation
>
Budget Propagator
Budget Propagator
Fantastic value propagator.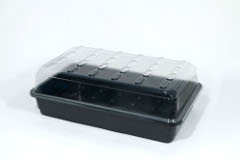 These great value propagators are manufactured by Garland, and sturdily constructed. Unlike some propagators, these can be used year after year.
Each will easily hold a Root Riot/Rockwool tray of 24 cubes.
Dimensions: 35cm x 21cm x 12cm
You may also be interested in these related products: