All content Copyright © 2007-2023 Emerald City Supply Ltd.
Nutrient Solutions
>
Formulex
Formulex
A general purpose nutrient solution for soil and for hydroponic applications.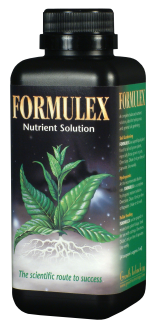 Formulex was originally developed for use in home hydroponic systems and for soilless (peat based) growing media. It is now used all over the world and for many different applications. It is the solution that growers keep on hand because it can be used for any situation. Formulex is designed to stabilise and maintain a suitable pH so it is very simple to use and reliable in performance.
Formulex is a very gentle solution, containing no harsh chemicals, so it has developed a very strong reputation as the ideal solution for seedlings, cuttings and young plants.
You may also be interested in these related products: